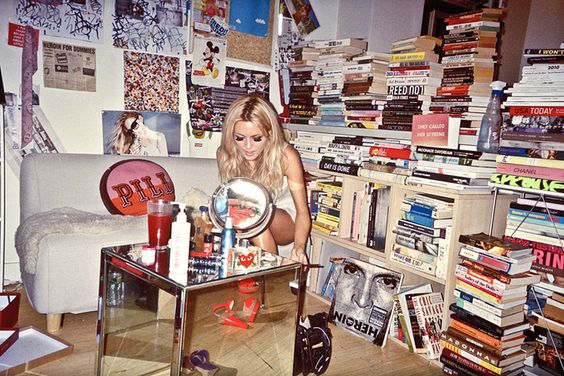 CAT MARNELL
Cat was a beauty editor at Lucky magazine before joining the xoJane.com team. Her beauty stories has appeared in SELF, Nylon, Glamour, and really random magazines like Vogue South Korea. She lives in downtown New York City.
Twitter:
@cat_marnell
. Follow me! Lots of weird beauty tips.
What I Do, Job-wise:
beauty and health editor for xoJane.com
What I Do, Fun-wise:
I go to clubs and parties; I read a lot; I love contemporary art and galleries; I shop for clothes; and I hang out with weird girls, derel artists, and a few sociopaths.
My Motto:
LET IT BLEED. and "Fuck that! Express yourself!" -Tracy Morgan
My Anti-Motto:
Anything my Republican psychiatrist dad ever told me. Like literally anything.
The First Movie Star I Ever Had A Crush On:
I think male movie stars are pretty goofy, truth be told.
My "celebs to make out with" list:
Pete Doherty, Sharon Stone ... Joran Van Der Sloot? Oh no I didn't!!! No, I don't want to make out with anyone famous. I mean, in general I'm trying to phase out kissing on the mouth.
The Most Played Song On My iTunes:
I dunno. Probably something Babyshambles. No, Britney's "Break The Ice".
Last Book I Read Without Skimming Any Parts:
As if I would skim parts of a book. Hmm, I read a lot, Last book was "Lit" by Mary Karr.
My Most Worn Item of Clothing:
Tsubi jeans, One Teaspoon studded miniskirts, dirty Balenciaga bags, rosaries, Ralph Lauren mens polos, disgusting t-shirts, Raybans, denim vest, chiffon dresses, Dior Homme mesh tank tops and black leather anything.
Beauty Products That I Hoard:
YSL Rouge Volupte lipstick (in the bright red shades), Prestige Cosmetics black eyeliner, Bobbi Brown concealers, Pure Fiji body oil, Hair U Wear Clip-in Hair Extensions (what?!)
I smell like:
Colette Black Musk Oil, Clean Perfume, Body Shop Coconut Body Butter, Hawaiian Tropic Sunscreen SPF whatever (year-round just to smell beachy)
I Have Faked An Orgasm (Yes/No):
Duh. I mean, you should see some of the people I've slept with!
THE ART OF CRACK-TTRACTIVENESS: HOW TO LOOK AND FEEL HOT ON NO SLEEP
Sleep is for babies! But looking good when you're strung out an exhausted is for everyone. May 18, 2011
note: the photos from this article were not archived
SO. Guess what? This article -- "no sleep beauty" or whatever -- has been written a zillion times before. I'm not claiming the idea as anything groundbreaking or new.
But here's the thing: it's never been written by ME. Yeah, the ME above at some crazy party. The only photos I have of myself are at crazy parties.
I have skipped more nights' sleep than any beauty editor that has ever lived. I used to be something of a party girl, you see. Yes, I was the Ambassador of No-Sleep Beauty. The president of the Society for Looking Good While Secretly Hallucinating Rats Under Your Desk at Work. The editor-in-chief of 'Bright-Eyed + Quietly Puking In Your Own Mouth' magazine.
You get the idea.
Yes, I '"fooled" a lot of co-workers. Was it ... admirable behavior? Whatever! It was admirable how convincingly non-partied out I looked after being tortured in a warehouse by a bunch of UK dustheads for 5 straight hours prior! Besides, I was very honest with everyone when it was time to go to the mental hospital or the rehab or wherever. I was.
Okay, so... Here, my looking office-appropriate good on no sleep step-by-step how-to guide:
#1 SHOWER. AND WASH YOUR HAIR.
You will probably feel like death and not want to do this, but you must. The hair-washing bit is crucial for waking you and your skin the hell up; also, I don't know where you've been up all night not sleeping, but you probably smell like something. So just hop in there really quickly.
I like bar soap on these mornings for some reason -- either extra-minty like Bliss Mammoth Minty Scrub Soap, or something really classic and authentically clean-smelling, like Lever 2000. It's anti-bacterial -- excellent. I mean three nights ago this artist guy covered in, I think, meth scabs -- yeah, this artist we shall call Meth Scabs -- LICKED me. And I didn't yell at him or anything! I was too tired.
2) EXFOLIATE YOUR FACE IN THE SHOWER.
...because I'm about to make you put self-tanner on it. Yeah, you hate self-tanner, blah blah blah. Fine, skip it. Whatever, I'm telling you what works for me! But since you need to wash your face anyway, you might as well scrub it and brighten everything up. I am obsessed with Christine Chin Resurface Exfoliating Scrub. It's microdermabrasion-y and amazing; Christine Chin is the ill facialist with 11 fingers of whom I am terrified and whom I worship but obvs that is another story for another time, dudes.
3) BLOW-DRY THE FRONT OF YOUR HAIR.
Why bother BLOW-DRYING anything when you're so tired? Let me explain: Giving your hair some shape around your face -- preferably maybe even covering part of your face, as in a deep side-part -- makes a huge difference. You look polished, first of all. I mean, vaguely.
But more crucially, you won't have your hair pulled back in a ponytail or bun, looks that only draw attention to your miserable blood-shot eyes and how goddamn death-y you look in the face.
So just do like four minutes with a round brush and get a little volume at your roots, too: I love this Redken Rooftul 06 Root Lifting Spray.
4) SLAP ON A BUNCH OF MOISTURIZING SKINCARE PRODUCTS.
Now is not the time to give a damn about what breaks you out or what gets greasy mid-day or blah blah blah. Just grab the most moisturizing stuff you own and slather it on your face. Eye gel! Hydrating serum! Night cream! WHATEVER; I don't care if you use SPF or anything. Just lube up your face.
Bonus points if there's a shimmer or glowifier in the skincare product -- I'm a big fan of The Body Shop's Vitamin E Illuminating Moisture Cream, which is infused with light-diffusing particles for a pink glow that makes you look healthier all over. Wait a few minutes to let it all sink in, and then we'll do makeup.
6) IN THE MEANTIME, BRUSH YOUR TEETH AND USE MOUTHWASH.
Nothing makes you feel grosser after a night of no sleep and possibly loads and loads of excellent cocaine (not my vice, but no judgement!) than an incongruously bad-tasting mouth all day! It does not go with your now CLEAN-SMELLING body. Also, mint wakes you up.
I thus prescrible Listerine toothpaste and, accordingly, LISTERINE mouthwash. It is the devil's brew to be sure and no one enjoys it, but you must pay a price for your reckless hedonism. There are consequences for staying up all night! HORRIBLY INTENSE-TASTING consequences.
7) LIBERALLY APPLY TWO UNDEREYE CONCEALERS.
Ohhhh, there is so much to conceal, yes. You look BAD. Start with under the eyes. I use a zillion different undereye concealers -- whatever I can find first, as is the custom of the makeup-overloaded beauty editor -- but on a no-sleep morning I will make an effort to use something extra-pigmented as a base.
Lately I've been into this stuff by It Cosmetics called Bye, Bye Undereye. As ever, I could do without the goofy name but I am industry-jaded. It's waterproof, so I can have a little teary no-sleep meltdown or five on the phone with Chase Bank or a guy I'm sleeping with or whomever, and it doesn't budge; plus it is AMAZING coverage-wise. You just need a tiny bit and it spreads out like crazy.
Then on top of that, I like to dab on (and I never use concealer brushes -- good God, who can deal? -- just my fingers) a more traditional undereye concealer wherever it's still shadow-y and Lohan-looking. You cannot go wrong with Make Up For Ever's 5 Camouflage Cream Palette in the picture here. ("Well, what if this reader is black?", I asked myself, as I am trying more often to do. I double-checked : this product comes in all shades. The one for white people is below. It's what I use!) (Shut UP, Cat. GOD.)
8) QUICKLY APPLY A MIXTURE OF LIQUID BRONZER + TINTED MOISTURIZER ALL OVER YOUR WASHED-OUT FACE.
This is when I start getting sloppy, because I'm rounding homeplate, makeup-wise. To finish off my face in 10 seconds, I mix a tiny blob a bit of Bobbi Brown All-Over Bronzing Gel SPF15 (it's oil-free and doesn't break me out; and it's a makeup product; not a self-tanner) with a blob of tinted moisturizer.
Right now I'm into Kiehl's Ultra Facial Tinted Moisturizer SPF 15 Sunscreen; It's very dewy -- and I slather the mixture all over my face, including eyelids and all that. The combined effect: I look a little tan and warmed up.
Sometimes I'll do cream blush, but all cream blush lasts like 45 minutes, so whatever. The bronzing gel suffices. You're supposed to use it "where the sun hits," but I always use it for an all-over color effect.
9) CURL YOUR LASHES EVEN THOUGH IT'S DEATH, I KNOW, AND USE A VIBRATING MASCARA IF YOU OWN ONE.
I hate my eyelash curlers and I hate curling my eyelashes! But eyelash curling makes a big difference. It's so annoying. I used to have the MAC Full Lash Curler but I lost it. Or you know what, some bitch stole it from my bathroom! Weird girls were always coming over and taking my stuff when I had parties and things. My fault. Anyway, the MAC one was excellent. I officially endorse it.
Anyway, curl your lashes. And then -- I LOVE a vibrating mascara.it does a lot of curling work for you and totally open up your eyes -- that Bambi-lash effect. Let it pulse at the base of your lashes for a second and then sweep outwards laterally, towards your ear. My favorite Maybelline is getting discontinued, so go with my second favorite: Lancome OSCILLATION Vibrating Infinite Powermascara Water Resistant. Now say that three times fast! Oh, Lancome. You are just so French!
OH YEAH -- NO EYESHADOW OR EYELINER, BITCHES. And I always wear loads of both, as a rule, day or night. But not when I'm exhausted. It makes me look worse. FACT.
10) DO A STRONG RED LIP.
Whether poppy-red or rich, deep red, the color just makes most people look pretty, pulled-together, and brighter-in-the-face in general. I love red lipstick and you haters like my sister who don't ever wear it are missing out! No, wear what you want. Umm ... I like a ton of red lipsticks. Telling you the shades that look good on me is sort of dumb, because everyone looks good in different colors, but lemme rummage through a bag and find one I use a lot anyway. Uh, here, Tarte 24•7 Natural Lip Sheen SPF 15 in Monday. This is not sheer at all -- it's a real solid red, but it's also hydrating and balm-like.
OMIGOD, this article is f-ing LONG. But see, that's just because I talk too much. This whole routine -- assuming you shower relatively quickly, should not take more than half an hour. Also, I always shove a bunch of makeup in my purse to brighten up with all day (since you know you're just gonna keep looking worse and worse as the hours pass).
Ok, I've obviously said enough. Now share the products YOU love when you haven't gotten enough -- or any -- sleep. Go!
TANGLED UP: HOW TO GET THESE F-ING HOBO KNOTS OUT GODDAMMIT! (PLUS: THE SECRET SHAMPOOING LIFE OF PILLHEADS)
I am sooo sick of working these disgusting DREADLOCK-Y knots out of my HAIR! But there are, I've found, solutions. Vaguely. Dec 14, 2011
note: the photos from this article were not archived and there are several broken links.
The hair that launched a thousand tangles
Okay, first of all, I apologize for that headline, which couldn't be worse. The punny Dylan reference, at least. [UPDATE: It was such a bad pun that I took it out.] Jane has a policy about no songs titles as heds, and whenever bosses give me policies I freak and aggressively refuse to follow them. And the more I love the boss, the more confusingly I navigate her "rules"-- to test her love for me and my specialness, you see!
No, it has never been easy being a Cat Marnell employer. Just ask Jean Godfrey-June.
Anyway, YO! Sorry I haven't posted for a while. I've been so busy occupying Courtney Love's and prepping for our second xojane.com MAKEUNDER tomorrow in a secret location, with a secret subject. I hinted at her identity on my Twitter yesterday. If you missed our first Makeunder with New York's #1 socialite Tinsley Mortimer, click here. She is wearing my t-shirt! I worship the Tinz.
Okay, so today we are going to talk about tangles. I fucking hate them! And I have worse tangles than almost anybody. To give you some perspective, let me tell you a story about one of the sickest times in my life – right before I quit my job at Lucky because of my raging addiction to pills (a.k.a. the "I Spent Two Weeks In The Mental Hospital, But I Left With Better Hair" era).
Too. Much. Hair.
I had stopped taking care of myself physically and grooming-wise almost completely, save for the occasional bath (showers made me too woozy). I started washing my hair only in the bath tub, which incidentally Tinsley Mortimer told me that she does, too. But I didn't do it in a glamorous way. I did it in a lazy junkie way!
Also: sometimes I fell asleep in the bath tub.
Anyway, I was so exhausted and apathetic about my appearance that basically I just didn't brush my hair for days and then weeks and then it turned into like a month, and when I washed it I was just dipping it in the bathwater to wet it, lathering at the scalp, and then dipping to rinse, and then half-heartedly conditioning, and then barely rinsing that, and then just wrapping a dirty towel around the whole mess and taking a bunch of Xanax and Ambien and Seroquel and Suboxone or whatever the hell I had laying around, and blacking out for twelve hours.
When I'd wake up every morning, you guessed it -- the tangles would be even worse. So I'd throw that shit under a baseball cap and head to work. (Yes, I'd gotten to the point of wearing baseball caps to the Conde Nast building. Do. You. Die.)
It was a obviously going to turn into a nightmarish situation for my long, endlessly color-processed hair, which has always been prone to rats' nest steez ever since I was a little neglected rich kid. Finally the knots in the back got so bad that I had big squirrel-knots the size of baseballs. And they looked like the mess of yarn you find inside of a baseball:
Stolen heartlessly from Flickr
And I had to go to a fancy salon (Butterfly Studio, in New York's Flatiron district) and get them cut out by the very concerned and very kind salon owner, whom I'd just written a story on for the magazine and everything. While I cried. I didn't want to lose my hair! And also, I was a big deal magazine beauty editor (I liked to think, har har) at the time. It was embarassing to be there in that situation, and obviously so sick.
Not swag.
Ever since then I've been a lot more conscientious about minding my tangles. You have to nip those bitches at the bud and work on them a little every day, so that they don't become so unmanageable.
No one knows this better than anyone who has ever been a mom or a babysitter to a little girl who insists on having long hair, like my zillion Eastern European and then Midwestern import nannies from childhood, or our Jane, who of course has a little Charlotte. I called the boss (she was over at Courtney Love's place, natch) to ask her for insight into her own tangle hell experience. Sayeth Jane:
"It's a big deal . It's ongoing. I keep telling Charlotte that I wish she would get more vain -- like Coco [Arquette] -- so she would want to brush her own hair instead of me doing it for her, now, at the age of nine. When she used to have a regular sitter in the mornings, they would do her hair, but that stopped when she was four. And she has lots of hair – it's really fine, like mine, so it gets bad. It's gotten as far along as close to dreads as it can get. She doesn't care if it's dreads or not; she just wants long hair. She genuinely does not care. So I've started thinking, 'Maybe dreads are okay.' I got the Hair Bean thing that they advertise on TV and it worked okay."
As seen on TV (and at Jane's house).
But what really made the difference for Jane and Charlotte? A Mason Pearson child's brush (they come in pink and blue -- do you die?!), of course. They are fucking expensive (though you save on the child's size) but so, so worth it. Jane finally splurged and got one recently, and it has made all the difference. "I couldn't bear to spend that much on a hairbrush initially," she told me. And Jane's rich, mang! "But it's the only thing that's really worked. It's cut the time that we spend on it in half. I still haven't bought one for myself yet."
So share, I thought, though for the first time maybe ever I didn't interuppt Jane to order her to do this. Then I remembered that there is a lice problem at Charlotte's school! Okay, so don't share. And BTW Char, honey, I've been there! Probably five times before the age of ten, and once it was so bad that my parents sent me with an aforementioned nanny (the Polish one -- Margeaux; I was four) to Disneyworld while they fumigated the house and she picked those things off of me one by one. I am still traumatized. Shudder.
Not that Charlotte has lice. But if she's hasn't yet...she will. Just saying.
ANYWAY. Gross! Okay, so the thing with detangling is that you have to do it before you wash your hair. When I was shampooing in the bath without brushing the dreads out first, I was just making them a zillion times worse. So you brush out the knots, shampooo, condition condition condition, and then after I get out of the shower I like to use this freaky-looking bad boy:
The Ouidad Double Detangler comb! It is delightfully heavy to almost the point of clunky -- if you drop it on your bare foot, you'll know it -- and it's designed for detangling curly hair (but whatever), since the most challenging part of having curly hair is getting the knots out.
It has double rows of long teeth with rounded tips that won't hurt hair cuticles or your scalp, and the hefty weight of the thing enables it to pull through knots and the length of hair much better than anything I've used. I like it to comb conditioner through my hair in the shower, then again when my hair is wet. Sexy!
And finally, I like a cheap little kids' detangling spray (they are generally way fruity-scented and delicious-seeming, but do not drink them) (swag though, if you do), though I am not married to any particular product or brand. L'Oreal Paris, of course, makes a good one called Tangle Tamer in a "sweet pear" scent, because they are a drugstore brand that does almost everything right:
Sweet Pear Swag
Now I want to know all of your tangle solutions, knotty hair horror stories, childhood lice and snarl traumas. Go! And I especially want product recommendations. XO
YES, YOU PROBABLY COULD BE BETTER-LOOKING: This Self-Tanner Changed My Life!
Q: What's really tan and deceptively skinny all over? A: ME! About an hour after applying the greatest self-tanner ever. May 19, 2011
note: the photos from this article were not archived and links may be broken.
Oh,
Lancome Paris.
They are the best best best when it comes to self-tanner; they really are. And I know this because the original (to borrow a phrase from one of my all-time favorite magazines)
DON DIVA
of all things self-tanner is my former boss at
Lucky,
beauty director
Jean Godfrey-June.
Yup, we love her, right? Bitches know! She is a Boss. Before I met her, I looked, well, disgusting! Pale. Like a maggot. Corpsebride! Like a dead stripper -- that pasty.
Anyway, JGJ is a self-tanner aficionado and expert, and yeah, she is the one who put me on to the brilliance of basically all such products by Lancome. Years ago as her assistant, I'd regularly call Lancome PR to send over bags and bags of it for Jean's personal stash, so devoted a user was she. And while I'd never been a self-tanner person before -- I thought it was weird, and that it smelled -- after working for Jean for a few months I was a convert. Because Jean ALWAYS looks good! Her whole look was to be self-tanned (she uses the same Lancome on her face and her body; she taught me that was okay, too -- and it's true, I don't break out) and then get away with wearing very little makeup, since her skin always looked naturally tawny and perfect. (In case you can't tell, I sort of creepily worship her and copy everything about her -- including the "you could be better-looking" in the title of this post, a beauty story concept shamelessly stolen [in an HOMAGE-y way!] from Jean's book that OMIGOD, you have to read if you're into beauty and fashion magazine culture and all that : it's called
Free Gift With Purchase
and it's why I became a beauty editor.)
Back to the tan thing. So I know that pale is an ideal look for many people. Why, our own Ms. Emily McCombs rocks pale beautifully – like a milkmaid! A sexy milkmaid, really good, creamy skin. Clear skin! With a lovely and very pale tone. I, my friends, am not so lucky. I'm GOONY when I'm pale. Really gross, with oddly colored eyebrows (I look in the mirror a lot – a LOT; it is my JOB to look at myself – and one notices such things), plus occasional smatterings of acne to throw the whole color scheme to f%&king hell all over again. And I used to just pile on the bronzer; sometimes even a SPRAY BRONZER; I throw up a little in my mouth just thinking about it.
Pre-Jean and pre-Lancome I was, like I said, disgusting. Disgusting-looking and disgusting inside, because I couldn't love myself! No, not looking like that. You see, I only love myself when I'm extremely good-looking, and thus the beauty product stakes are always high. So you can always trust my recommendations.
FACT: The best beauty editors always feel this way about themselves, even if they won't admit it.
NO, I'm lying. Most beauty editors are not nearly so shallow. They are, however, better at putting on self-tanner than you, and since I've been a beauty editor for many inauthentically tan years now, so am I. Here's what I've learned:
1) You don't have to do the whole exfoliating thing every time you're going to self-tan. I mean, it helps, but whatever. You can just jump in the shower, soap up and rinse off and usual, then apply self-tanner when you're dry. (If you are going to exfoliate, I like a good salt scrub – lately,
this one by Bliss,
aka the beauty company can do no wrong. EVS. And that's slang for "ever".)
2) You don't need to be all paranoid about streakiness when you're self-tanning. Slap that shiz on like it's lotion, mang! And blend a little bit, but really, you don't need to be sooo anxious. The best formulas are designed to not be all streaky and terrible.
3) When in doubt about a product to start with, use
Lancome Flash Bronzer Tinted Leg Gel!
Many beauty editors would not sit here and tell the whole world-wide Internetz that the only brand of self-tanner they would die for is Lancome, but that's because they are open-minded and fair. Me, not so goddamn much! This stuff is amazing; plus, is goes on sheerly tinted and it smells good! Go glob it on your arm all secretively at a Sephora or something some time. I'm telling you.
4) A safe second choice is anything manufactured by the parent company of Lancome, which is L'oreal Paris. Yes, L'oreal produces so much that is good in this world, including my favorite new drugstore self-tanner,
L'oreal Paris Sublime Bronze Clear Self-Tanning Gel,
which similarly does not smell! And it sprays on, so you can get your back and all that. I go through bottles of this stuff like I'm supposed to go through bottles of, like, water. Except
I don't drink it,
durr.
5) One of the best tips Jean ever taught me is to finish off by washing your hands to get all the color off -- then put a little on the back of one hand and rub it onto the back of the other, so the back of your hands match the rest of your body but your palms don't. Hotness!
And OK! That's all I've got today. What are your favorite self-tanners? Self-tanner tips? Let's hear 'em.
ON THE DEATH OF WHITNEY HOUSTON: Why I Won't Ever Shut Up About My Drug Use
When Whitney died, I wasn't surprised: women are using drugs all around you, and I'm one of them. Now why am I not allowed to talk about it again? Feb 13, 2012
Two days ago I spent half an hour poking around the internet for information about Althea Flynt, who has interested me ever since Courtney played her brilliantly in "The People Vs. Larry Flynt". I wanted to ask Jane about talking to Courtney about talking to me about Althea for a story.
I've always been fascinated by the pornographer's wife and the bisexual drug addict, who passed from an overdose and drowned in her bathtub in the Bel-Air mansion she shared with Larry in 1987.
It was eerie, then, when 48 hours later I woke up at 11:30 pm after sleeping all day to learn that Whitney had passed out and probably drowned in her bathtub at the Beverly Hilton hotel.
For all the wrong reasons, I always love the ones who are going to die young. I know they're headed for it. Gleamy clavicles and comebacks that won't stick. Singing voices gone to hell; concerts cancelled. Pictures get leaked of a home full of drug paraphernalia and garbage, or the star just lets a journalist in to see it all for herself.
Oh Whitney.
*****
Have you ever heard of Freud's theory of drives? Basically, he (initially – he'd come to revise his ideas a bit) believed that human behavior could be explained by a class of drives known as the life instincts, or Eros (also sometimes referred to as sexual instincts; the energy created by the life instincts is known as libido: that ultimate pro-life force, and incidentally one of the first things to go for me when I use).
The life instincts are those that deal with survival, reproduction, pleasure—in other words, instincts that are crucial for sustaining a person's life, as well as the continuation of the species: thirst, hunger, pain avoidance, love, human interaction and other prosocial actions.
You follow?
But eventually Freud determined that human behavior couldn't be explained by life instincts alone—and introduced his theory of death instincts, or death drive, or Thanatos.
Freud posited that "the goal of all life is death", concluding that humans hold an unconscious desire to die—and that self-destructive behavior is an expression of the energy created by the death instincts.
According to this theory, then, if you are not a self-destructive person, your death wishes are under control because they overridden by healthier life instincts.
Alternately, then, "an organism shall follow its own path to death" when the death instincts override the life instincts.
Let me posit that drugs weaken our life instincts, those compulsions that are intended to keep us, for as long as naturally possibly, from being sucked into the supposedly seductive (says Dr. Freud, though his ideas about all this have certainly been contested) current of death drive and alluring self-destructive tendencies.
I touched on these themes in my article "
Self Sabotage in a Bottle
":
"…prescription speed works until it stops working, and if it hasn't stopped working for you yet, believe me, it will. It deprives your body of natural cues (hunger, sleepiness), wears away at your edges until finally you're all raw nerve, with no inner resources of physical or psychological strength left to deal with your life."
This weakening and waning of life instincts—that crucial internal self-parent, the instincts that keeps adults alive and healthy and part of the social world—to such an extent that the self-destructive death instincts were allowed to take over: this is what I understand to have been happening to Whitney Houston for a very long time.
And I believe this because for so long drugs weakened my life instincts so that my death instincts started to take over. With years of heavy drug abuse, the scales tipped and my death instincts got more and more powerful than my life instincts, until I found myself quitting my magazine job just so I could withdraw for a year.
I put up blackout curtains in my apartment and became a recluse in my own bed and even in my own bathroom, even overdosing once (I'll save that for another article).
As xojane.com likes to say: It Happened To Me.
*****
Have you ever fallen asleep in the bathtub on drugs, or blacked out laying on your bathmat? Some of you who drink might relate to the latter.
I'm a big bath person in general, and I used to pass out in the water all of the time, when I used to snort heroin, snort painkillers, and take tons of Xanax and sleeping pills together, always alone at my house, or one time, in a hotel room bathtub when Lucky sent me to Chicago to cover Lollapalooza.
I took baths, never showers, because showering when you're messed up is a lot of work, and makes you feel like you're going to collapse half the time (see: Meg Ryan's alcoholic character in "When A Man Loves A Woman").
Also, baths feel good on drugs, and also, like anyone who's fucked up all the time, I was too shaky to stand—Bambi legs (you can read
my Amy Winehouse death story here
).
Remember my story, "Tangled Up (PLUS: The Secret Shampooing Rituals of Pillheads)":
I had stopped taking care of myself physically and grooming-wise almost completely, save for the occasional bath (showers made me too woozy). I started washing my hair only in the bath tub, which incidentally Tinsley Mortimer told me that she does, too. But I didn't do it in a glamorous way. I did it in a lazy junkie way!
Also: sometimes I fell asleep in the bath tub.
Anyway, I was so exhausted and apathetic about my appearance that basically I just didn't brush my hair for days and then weeks and then it turned into like a month, and when I washed it I was just dipping it in the bathwater to wet it, lathering at the scalp, and then dipping to rinse, and then half-heartedly conditioning, and then barely rinsing that, and then just wrapping a dirty towel around the whole mess and taking a bunch of Xanax and Ambien and Seroquel and Suboxone or whatever the hell I had laying around, and blacking out for twelve hours.
So while stars are infamous for their hard partying, their dizzying downward spirals, their headline-making binges, the truth is, when they use most heavily and subsequently die, it's usually in their most private places, where they can relax, be in quiet, and don't have to appear functional to the outside world.
Much more rare are the overdoses out in the world of the living, like River Phoenix's in front of the Viper Room many years ago. After beds (recently these deaths include Anna Nicole Smith, Heath Ledger, Casey Johnson, Michael Jackson), it seems that bathtubs are where drug abusers die.
Jim Morrison died in the bathtub at 27 allegedly of a heart attack in 1971.
A few years ago, many people I know were devastated when their friend, an important young New York City artist who used heroin, was found dead in his hotel bathtub downtown.
Kristen Pfaff of Hole fell asleep in her bathtub at home in Seattle—a "normal thing for her", said her friend Paul Erickson, who found her the next morning—and never woke up.
Another bassist, Pete Farndon of The Pretenders, drowned his in bathtub following a heroin overdose.
Then there are the bathroom deaths: Brittany Murphy, Elvis. I could go on. But I won't.
*****
The first time I did coke, at fifteen, in my friend Alexis's house on E. 58th Street in Manhattan, on a weekend in the city from my Massachusetts prep school, the corniest but also best thing was that this Bowie was on:
What you like is in the limo/ Fame FAME fame FAME…
What can people who use drugs make of celebrity deaths? I can tell you that people who regularly take to their beds on loads of drugs are not unprepared to die. Similarly, they are not unprepared for celebrities that they see doing to same shit to die, either.
We've been there, and we didn't care that much about ourselves when we were there.
I'm not famous, but let me tell you: celebrity or civilian, the Bowie lyrics are a little different when you're in bed past dawn, coming down off uppers, with nothing to black you out: Shame SHAME shame SHAME.
When this song is inevitably stuck on repeat in the jukebox inside her brain at dawn, a stimulant user will take just about anything to yank the plug from the wall.
Got to get a raincheck on pain (pain). (Pain PAIN pain PAIN)
To me, things feel not so tragic: I could die, I thought to myself a hundred times when I snorted the heroin or shot the coke or washed the oxycontindown with vodka Gatorade. I might die, I thought, when I felt unnatural heaviness hit me in that way that it must when you are drugging yourself to sleep because your heartbeat is keeping you awake.
Is it any wonder?
I don't know what killed Whitney, but if it was something that she used to put herself to sleep because the agitation of being awake was too great—remember this, drug users: staying awake will never kill you.
*****
Drugs weakened my life instincts, and every day that I'm getting better—I still use, though it's nothing like before—I'm struggling to strengthen those instincts again. They have made it harder for me to keep motivated to care for myself; they've made it more comfortable for me to isolate from other human beings and give up on being an attractive potential mate to others than to be out there being awesome and sexy. I still can hide out in bed for two weeks without brushing my teeth or hair.
At times drugs have squashed my libido and, sometimes, my ability to orgasm—not that I'm fucking anyone when I get into a drug phase. They've made me incapable of eating, sleeping or dating like a normal person; I feel like a space alien all of the time.
And yet when I am at my sickest, I put a huge amount of effort into fooling everyone: the hair, the makeup, the chatter. You either never see me—I've been so busy—or I'm my very best self in public before rushing home to numb out again.
Remember Michael Jackson in his "This Is It" rehearsals? He looked good and he sounded good, and then he was getting put under anesthesia every night. Don't you remember those horrible tapes?
It would be wonderful if we lived in a world free of drugs and drug addiction, but we don't. In the end, the addict will die of overdose, of disease, or serious self-neglect, and half the time, you won't even see it coming for her. So I am telling you that there are people all around you with one foot in the door—where you see them—and one foot out, where you can't.
For a long time, it was like that for me: one foot in the door, the other out—and it could easily get there again. We all thought Whitney was better. She wasn't.
*****
Desperate drug addicts go on the internet late and night and prowl around looking for writers who will talk about using. I was one of those internet-searchers, looking for help on the fucking internet, night after night. I'm writing this for them. Hi guys.
So many of you have expressed your disgust about how much I talk about drugs. I really tried to stop for a while, but you know what? No one else in women's magazines or websites is writing about this stuff, so there's nowhere for a female community to read it. I guess they can buy a zillion wack addiction memoirs, as I have, or go on message boards online, but that's it.
Why can't we acknowledge that lots and lots of women abuse drugs? That they are a huge part of so many women's lives? Including mine?
Why aren't I allowed to talk about them? Like, a lot? On a "womens" site?
I just don't get it. Is it because I'm not committed to "recovery" or a life or sobriety? Why does a person have to have resolved their drug issues in order to be allowed to write about them? Can't a writer be conflicted?
And above all else, why shouldn't I be honest about my life? Do you really think I don't deserve my job, a platform, because I'm an admitted drug user?
I guess I make people uncomfortable, and that's fine. If you want a recipe of the week, subscribe to the xojane newsletter or something. I don't know.
Dude, so many people use drugs. So many people use drugs. I don't know what to tell you, reader who asks me to stop writing about them. I understand that you don't want to read about them. I keep trying not to write about them, and I keep coming back to them.
But I'm not going to shut up about this stuff; I'll keep mentioning drugs in my columns so long as they are in not only my life, but in the world all around us, which they always will be. In a big way.
You call it oversharing; I call it a life instinct. Because look. Look how easy it is, even when you are Whitney fucking Houston, to withdraw your voice and pretend like you're a good girl and not mention that you're using. To slip silently into the water. To disappear.