11/30/02 haaaanng the blessed dj....
---
Well... Happy belated Thanksgiving to all of you. As luck would have it we were close enough to NY to be able to return home and enjoy the holiday with our families. Besides that though i don't imagine this will be much of an update... but i'll muster up whatever i can. Here it goes:
We are in a hotel in jersey. You'd think we would just go home.. but no. We'd rather stay in a hotel that's only an hour from our house. And now Casey is watching Power Rangers. I don't like this show.
We've met so many of you street teamers this tour and we just wanted to extend our thanks for all the work you have been putting in. Keep it up and i'll buy you all houses... after i buy my parents a house... cause they are making me.
There is supposed to be snow.... soon?
B.O.B does merch and assasinations for TheMovieLife. He is the sickest dude you will ever meet. Come to a show and arm wrestle him.
There are new songs... and we will officially begin recording them on Jan. 27th.
We've made it to the end of Season 2 on The Sopranos. So far i have only suffered three anxiety attacks. Way to go.
I told you this update would be no good. We'll see you all later.
Looking forward to snow, Jesseeeeee
11/17/02
---
well.. we've made it to Denver. And we are alive. This is what has been going down:
The Reunion Show met up with us California. After destroying their old van on the way out here they scammed some loans and scored a brand new Dodge fifteen passenger cargo van. Then they promptly destroyed that one and had to have the engine replaced after three days. Way to go TRS. You guys are truly a pro band. We are parting ways with The Reunion Show today and they will be sorely missed.... see you guys at home during the holidays.
Despite our show being canceled we all decided thatwe had to stop in vegas anyway. So we did. This resulted in me playing blackjack for four hours and winning a five dollar "collectors" chip that the dealer, Mario, told me was worth a hundred dollars. I think he was lying but i kept it anyway and will attempt to sell it on ebay as soon as i get home.
Me and Brian Diaz have come to the distinct conclusion that the color orange is the new black. Jets to Brazil claims that orange is the new camouflage. They may be right. But try not to miss the point.... orange is wicked rad.
Me and my cousin Derrick have also concluded that Orange amps are the new Marshall amps. Once again... orange is wicked rad.
We swung by the Atticus/Macbeth warehouse while we were in San Diego. Since then it's been all ten guys on tour sporting the new Macbeth shoes. These things are wicked rad and will soon be available to the public. Support these companies, cause they support the bands you love. Thanks to Dylan and all the guys for being so so wicked rad.
Casey from Iodine has joined the tour. We have since watched about 12 straight hours of Soprano episodes.
The last, and most important thing, happened last night. As fate would have it we ended up playing Denver on the same night as one of our favorite bands, Sigur Ros. They are from Iceland, and like most things from Iceland they are completely wonderful. After we played and packed up we raced across town in hopes to catch at least part of their set. Well... we made it just in time. We saw the whole thing....
I would have a hard time decribing exactly how much i enjoyed watching this band play.
I cried.
It was hands down the most beautiful, the most inspiring, and the loudest show I have ever attended. After the show, in the hotel, we all agreed that it was the greatest thing any of us had ever seen... maybe ever.
Then we fell asleep. Such is tour.
<3 jesselectricity
11/04/02
---
Hey guys whats happening?
We are in Sacramento, California right now, and I'm about to go to sleep, but I figured I might as well update the site real quick. After all it is my turn.
So far, The Movielife tour has been amazing. Thank you for all of your support so far, it's made this more fun than ever. There is still another month or so of being out, so make sure to check the shows out if you haven't yet. Garrett is very sexy, and very single, so don't miss it!
Speaking of Garrett being sexy, he and the rest of us will finally be heading over to the UK with Millencolin from December 15 - 22. We are all super excited about traveling abroad, but we're scared of flying. Millencolin is an amazing band, and we have been wanting to tour with them since we started so wish us luck. The dates will be up within the next couple of days. So keep checking back!
Other than that, there is not much else going on at the moment. As soon as new information is gathered, you will be the first to know. We have a special tool on our website now, that makes updating painless. So we're becoming pros.
Buy The Reunion Show(www.thereunionshow.com) cd.
Goodnight.
..brian
11/02/02 seattle. what.
---
Tom at Nettwerk insists that it's "brian's turn" to update the site. Well listen Tom, I'm the singer and i'll update this thing whenever i want. Brian's just gonna have to wait another day. I just wanted to shout out Iowa City... you kids are out of your minds, seriously.
That's all.
Tour is cold.
We miss TBS.
Please send all your hate mail to Brandnewrock@aol.com ... or if you really have a problem with us, just come to one of our shows and kick our ass. We'll give you the first punch.
<3jesse
10/27/02 hi from the road - vin checks in
---
greetings from the brand new camp. just filling up the old tank here in indianapolis. its about 1:14 in the AM, that would make it saturday i think. so here is your weekly update brought to you by me ...vinnie. this is my first attempt at an update so please be patient.
the first week of the movielife/brand new tour is over (1 down and 7 more to go) and so far all is well. we are all alive and functioning well. the van is still running like a champ and we are having a great time right now. all of the shows have been a blast so thank you to everyone who came out to participate, hang out and have a good time.
outside of all that not to much else is going on. i recently learned about a new shot. it's called a baby guinness. for all of you kids who are of age out there, you should give it a try you will not be disappointed.
on our day of we stopped our long drive to go see the ring. this is another thing i greatly recommend. i haven't really been sleeping well since I've seen it but hey, it was worth it. after that we went out to the olive garden where we had such great discussions as what our top 5 movies are and what movies we have cried to. i don't think i have 5 top movies so i really didn't have much to say, although i did admit to crying at the movie awakenings with robert de nero. yeah... anyway, good times are being had by all..
so everyone, hope to see you soon. we have a lot of ground left to cover. tell you friends and spread the word. there is no reason any of you should not be coming out to these shows and if i find out that you did not attend i will kill you...and someone you love.
and don't forget the easiest way to find your way into garrett's heart is a salad and a nice bowl of pasta.
this has been vinnie* of brand new
10/26/02 home at last...
---
Hey guys! For everyone back on Long Island and the NYC area, Brand New will finally be playing their first headlining show ever on Long Island on December 30!
It will be at SportsPlus in Lake Grove, NY with The Starting Line.
You can buy tickets in advance here. Hope to see you guys there!!
Thank you so much for all of your support!
It means so much!
..brian
10/13/02 some uk press
---
Hey guys! There's an interview with Brand New in the latest issue of Rock Sound magazine from the UK!
Brand New appear in the 'The Shape Of Punk To Come' feature which includes interviews with: Thursday, Thrice, Coheed And Cambria, Good Charlotte, Yellowcard and more.
There's also a track by the band featured on the free 18 track "Music With Attitude CD" that accompanies the magazine.
Check it out! The new Rock Sound comes out October 16.
See you guys soon.
10/11/02 3am
---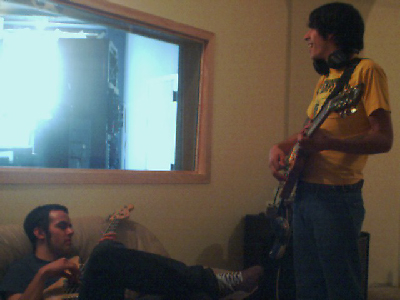 Four updates in four days?
Is this possible?
Is it a new record?
Anyway, i just wanted to assure everyone that pictures actually ARE on the way... tons of them at that. We were in the studio re-mixing and re-recording "Jude Law.." This is Vin and Garrett sharing a moment between takes.
Eat your heart out ladies.... AND JOIN THE STREET TEAM!
10/10/02 the site gets more active
---
The web site is getting an overhaul...keep an eye out for changes. As of tomorrow you will be able to sign up for the Brand New Street Team (!). ALL Movielife tour dates are up, including a couple of Southeast late additions. The NEWS section will be very current from now on - look there for info on the DVD. The guys will also be checking in much more often with words and pictures from the road. Also, check the link below if you haven't seen the video for "Jude Law".
10/09/02 garrett checks in~~~~~~~~~
---
We've just had gotten back from the Face to Face tour and I'm thankful to say that we all made it back in one piece this time. No one broke anything or anyone else's body parts (Vinny). Although the van yet again is back under the knife getting worked on. I don't think one tour goes by that we end up spending more then we actually make.
Don't get me wrong though, the tour was amazing. How many people can actually say that they got to tour with one of their favorite bands, one that they used to listen to when they were like 15, skating around and having fun? Not too many I can tell you that. Not only did we get to play with Face to Face, but we also had the privilege to play with a band called Moneen (on top of the Riddlin Kids). New Yorkers, if you are around on October 31st Moneen will be playing CBGB's so don't miss out, they're an amazing band from Toronto Canada.
Don't forget to check us out on the Movielife tour and tell all your friends about us, especially if they are between the ages of 18-23, single(important), have a good head on their shoulders and know how to make pasta (very important) and a good salad too. If you do not meet these requirements then don't talk to me.
And now i bid you adieu.
Garrett
10/01/02
---
Dear Website Viewers.
We know our site has been down for about a week now, but we promise that this is now all figured out, and everything is better. No more down time. We promise.
Anyway, there has been some great things happening in the Brand New camp within the past couple of weeks and I'm here to tell you about some of it.
We have picked up a new management team by the name of Nettwerk. Ari Martin and Tom Gates are two of the most handsome guys you will ever meet, and they are doing a hell of a job helping us out. You can check out more about Nettwerk at : http://www.nettmanagement.com
The next thing we would like to inform you about would be the re-recording of "Jude Law and a Semester Abroad" for radio. Now don't worry, no words or guitar playing has changed...it is just a better recording. It is in the process of being mixed this week, and we'll have it up on the site as fast as we can for you guys to download! Also, start checking your local station to see if you can hear it or request it! Well have a list for you soon.
The Brand New promotional DVD will be out the second week of October in a bunch of selected retail chains, and indie record shops. It will be free through certain promotions and other programs. It will also be available at your newstand in December with Alternative Press, and through us at shows on this next tour!
Speaking of the next tour...We have been home for almost about a month since the last tour, and we finally leave tomorrow for a tour with Face To Face! Check out the tour dates page for more info on that. We will be taking a short break after for about a week, and then departing for the full US again with our good friends The Movelife. We're all super excited about this, and it's going to be so fun, we might not even make it through the whole tour. Well...i hope we do. We'll keep you posted.
And last for now, our website is finally being taken over by someone besides us, so there will be updates every week via video, phone or maybe just pictures, as well as a street team page that is being constructed as we speak. Look out for a total redesign in October also!
The video for Jude Law will be up very (very) soon on this page. You can also download a one minute preview of the DVD right now by clicking here!
Enjoy ...brian
09/03/02
---
Hey guys.
So we are back from the tour with Taking Back Sunday and Rufio and i cant express how great this past month has been for us. Thank you everyone, from the bottom of our hearts for your support! This is all because of you guys, and we know that.
Our video for "Jude Law and a Semester Abroad" has been in rotation on much music and mtv2 rock show for the past month or so, and the response has been great. Thanks so much, again, for voting for us whenever it is needed! You can still vote at the much music indie rock section on mixtape mixdown. Please go vote for the video at: http://mmusa.kiwibox.com/mixtapemixdown!
We will be home for about a month in September, and then we will be going back out on tour.
First we will be doing some dates with Face to Face and Riddlin' Kids which will finally let us break a little bit into Canada, and then we tour the US again with The Movielife!
We hope to see all of you guys at the shows again!
Something else coming out within the next month or so is a tour DVD that we have put together. Our good friend Peter came with us on the road from New York to California to video all of our stupid mistakes, miserable moods, and good times. He compiled all 12 days into 20 minutes worth checking out. There will be about 15,000 pressed, and it will be released for FREE with the January issue of Alternative Press, as well as a record that will be announced very shortly in October. As soon as everything is set straight, we will let you guys know who it is.
And last for now, we have a lot of new merch from this tour in our online store. Please check it out at http://www.merchdirect.com/brandnew
I will try and have the full version of the video for "Jude Law.." as well as the 20 minute DVD on here for download this week, so keep checking back!
We started to add more tour dates last night, and more will come every day.
Maybe even a new website and some photos will start appearing if you guys play your cards right =)
See you guys soon!
...brian
07/30/02
---
Hey kids, whats happening? We are in Phoenix, Arizona right now, and were pretty excited cause we just heard our video for "Jude Law and a Semester Abroad" premiered on Much Music and MTV2 today...The video will be airing all week this week for the first time. It is an "oven fresh" video on Much Music and we'd appreciate it so much if you guys would vote for it at www.mmusa.tv at the oven fresh section...or click here to go straight to it. PLEASE GO DO IT NOW!
Also, we have been on the road with Taking Back Sunday and Rufio for only 3 days right now, and it has been amazing. Come check us out when we play near you! Click on the tour dates for more info.
We will update this site again from the road soon. We just got a new laptop to make it easier! See you guys soon hopefully. And thank you so much for your support!
07/12/02
---
Hey guys, I know its long overdue, but "Your Favorite Weapon" has now been released on colored 12" vinyl, with an old demo song that was recorded after only about 3 months of being a band! You can get it at our online store at : MerchDirect or at Iodine Recordings as well. This first pressing is limited to a few hundred blue and white records, and the rest black. Enjoy...
We are also coming back to New York City August 20 and Long Island August 31! Check the tour dates for more info. We will also be adding info on how to get advanced tickets to all of our shows.
..brian
07/01/02
---
We are now back from the couple tours that we were out on, and looking back, its been pretty rad. We would like to thank all the bands we were out on tour with. They were all awesome bands, as well as awesome people. If you all dont know them already, for some reason...check out
Thrice
Starting Line
Recover
Finch
Autopilot Off
Coheed and Cambria
and of course...
Dashboard Confesional.
The Brand New video for "Jude Law and a Semester Abroad" is still being edited. It has been taking a little longer than expected, but I promise we will all let you know as soon as it is released. We will throw it on the website right away. And speaking of websites...our new website is going to be up very soon. I know we say this all the time, but it is finally all coming together, and it should be up before we go out again. This includes a whole new design, some new links, plus some pictures this time! Lots of them! We are gathering them all up now. We will now be home for about a month to write and demo some new material. We are hoping to record a new record by the end of the year, and we are way excited about it. We might even throw one or two demo songs up by the end of the month. We will be playing some new songs on the next tour with Taking Back Sunday and Rufio. Check out the tour dates section for the new dates. We will be out almost until the end of the year, so keep checking back. We are also working on a Long Island show in August sometime to make up for the cancelled one in April. Please be patient, and we will all let you know about one as soon as we do. Thanks a lot to everyone who we have met on our first US tour, and everyone who has been supporting us in any way. This is all only possible because of you. More updates coming soon...
Check out the yahoo and club and this new fan site too!!
www.brandnew.cjb.net
Yahoo Club
...brian / brand new
05/21/02
---
I've got two words for eveybody: WEST COAST
It is incredible here.. everywhere from Seattle to San Diego you kids are so so rad. The shows with Finch, StartingLine and AutoPilotOff have been absolutely off the hook. I've never seen more kids bleeding, sweating, and going as crazy for four bands as i've seen on this tour. A million thank you's from us and from the other bands. We're about half done with this tour and we already can't wait to come back to everywhere we've been.Seriously, every single night has been incredible and we're so happy to have so many fans so far from home. That's all...tour continues. We'll be meeting up with Chris and the rest of Dashboard Confessional come june 2nd. And directly after that the BrandNew, Thrice, Recover tour begins. If it's anywhere as out of control as this tour has been then it's going to be completely insane.
Love to our friends and families back at home. We are missing you like crazy.
love, jesse
P.S. for all you Long Island kids. We'll be playing CBGBs in the city on june 12th. Spread the word and be there! We can't wait to come home and we owe you guys a great show!!! see you there.
04/29/02
---
We just wanted to set the record straight about the cancelled show at the Sahara last week. So this is the deal….in the past the Sahara has been known to oversell their 250 person capacity, in the past this has not posed any problems. When we learned that we had sold over 700 tickets to the show it never crossed our minds that this could be an issue. Well evidently a night or two before we were scheduled to play, the Fire Marshall raided an event at the Sahara because it was over capacity and threatened to close it down. Knowing that our show was oversold, the Sahara was forced to make a judgment call and postpone the show. Needless to say words can not express how extremely disappointed we were…we would have rocked LI so hard. But we will be back, that you can count on. Thanks to all kids that bought tickets to the show…the amount of support you give us is nothing short of amazing. We are working on lining up something for you to make up for it all, hopefully bigger…better…and one without fire codes. Keep it close for further details. I love you -jesse
04/05/02
---
hi.
okay guys. let's clear up the rumors.
A) BrandNew will be playing the first day of the Skate and Surf Festival in Asbury Park on Friday, April 19th with Newfound Glory, Good Charlotte, GlassJaw, and HotRod Circuit. They will be playing on the Main Stage. Yes, it is going to be insane.
B) Yes, BrandNew will also be shooting a video for their single "Jude Law and a Semester Abroad" that day. Yes, part of the video will be shot live during the Asbury Park show. Yes, you should be up front with all everyone of your friends. Yes, it is going to be off the hook.
C) BrandNew is playing Long Island! We know how long you kids have been waiting and believe us... we've been waiting just as long. The show is on April 26th at Sahara in Syosset. TheStarting Line, Orange Island and a suprise guest will also be appearing. More info on the "tour dates" page. Yes, we are planning on rocking your socks off.
D) You should be visiting both Absolutepunk.net as well as Supersonicmag.com EVERYDAY! Yes, both of these sites rule.
E) I didn't think there would be an E. But anyway... things are coming. Big. Huge things.
love jesse
03/06/02
---
Guess what?
The Brand New/Safety In Numbers split CD has finally dropped! This four song collectors item features a totally rad see-through disc, plus one of the most beautiful covers i've ever seen featuring work by artist Mike Miller. Buy it on the merch store now! Anyway, it's sunday and as usual the touring machine that is Brand New is on the road. We'll be stopping in Clinton, Massachusetts today to play the record release show of our friends, Orange Island. These boys are noisy, loud and wreckless and I'm sure it's gonna be one of the funnest nights of the tour.
After that we head out to Worcester to meet up with our sidekicks and labelmates, HotRodCircuit. If you haven't heard HotRodCicuit yet then i suggest you crawl out from the cave you've been living in and get some sun. Oh yeah, Further Seems Forever will be there too, so do yourself a favor...check out the tourdates and make sure you don't miss a great show.
So while we were in Florida we got to hang out with our friend Brad Fischetti from LFO. Brad broke us into Universal studios with a couple of his friends and we went running around the park all day riding rollercoasters and making ourselves sick. Spiderman The Ride was the best five minutes i've spent away from home in the last year. Anyway it was fun, fun times and we just wanted to say what's up to Brad, Colin, and John. Click here for a taste of what went down.
Oh yeah one other thing. Brand New will be playing their songs and throwing themselves all over the stage on the FIRST DAY of the Asbury Park Surf and Skate Fest. If you haven't heard, the first day will also include NewFound Glory, Good Charlotte, Glassjaw, HotRodCircuit, and Piebald. Now... the rumor is that there will be a film crew there recording Brand New live for part of their new video expected to break in early summer (that's right kids.. a video) So if any of you kids want in, then make sure you are there, front row, screaming the lyrics, pointing your fingers and throwing down some serious mosh. Then when your face is all over MTV you can laugh at all your friends who had something better to do that day.
Special thanks to Jason Tate and all the kids at AbsolutePunk.net for all the support and for having such a great site. We'll see you guys on the west coast alot sooner than you think. Thanks to all the kids who have been coming out and going nuts at the shows. You make this all worthwhile.
We love you.
Brand New.
02/24/02
---
I feel weird...We just finished up our shows for February, and drove 24 hours straight from Florida, back home. I feel like jello.
Anyway, the shows were rad. We were so psyched to see how many people actually knew who we were throughout all the places we visited this month. We made a lot of new friends, and Garrett started a lot of bar fights. We couldn't of asked for anything more.
We are really happy to be going back out with Further Seems Forever next week with Hot Rod Circuit as well. I anticipate a lot of beer, and homosexuality. Try and come down to one of the shows near you if you can. You won't want to miss out on any of the action!
There are a lot of new shows constantly popping up on the tour dates section, so please keep checking back on it. we just recently got added to a few dates of the southeast portion of the Showoff tour, as well as a week from Chicago to Connecticut with River City High. Those dates will be posted soon.
It is also confirmed that Brand New will finally be getting to the west coast! We have been getting a lot of emails from there, and we are more than excited to finally be getting out to California and other parts. Starting late April we will be making our way out there with our friends The Starting Line. Keep a watch for more dates to be posted for that as well.
Maybe sooner or later this site will be revamped also. We're still working on some designs, cause I know you are bored of this one.
I will now go to sleep.
..brian
02/13/02
---
Yea, so the site hasn't been updated in a month. We did it again..but now it is that time to once again give you a quick update.
As of this moment we are on tour with 2 great bands called Recover and Further Seems Forever. The tour has been very fun, and we have all been having great times. We played Jersey tonight, and it is off to Maine tomorrow, where will be enjoy a great lobster dinner, as well as delicious Pabst Blue Ribbon. Ha! The tour ends on February 14 at SUNY Purchase, but we go on to Florida from there. Check out the shows in the tour dates section.
While in Florida, we will be going to Disney World, Universal Studios, and maybe playing some shows here and there as well. One of the bands we are very excited to be playing with in Florida and in Jersey is Less Than Jake. We grew up listening to this band, and it is really great to know we will be sharing the stage with them now also.
On a different note, we have now sold over 3000 records of Your Favorite Weapon, and we still all cant believe we sold 500. Thank you so much for all of your support, and for listening to the record.
There is a new website in the works again, and hopefully we will be seeing some changes to this one within the next month. It's gonna be the real deal. Watch out.
I am going to go to bed now, but I will update this from the road again soon. Oh! I bought AOL mobile communicator now also, so I am online 24 hours a day from anywhere. Im an addict.
..brian
01/02/02
---
Well, it is January 2, 2002 and everything is still the same. Garrett is still single and I am still slacking on updating the site. But, it has been a great end of the year for us, and we couldn't ask for much more support. We'd like to thank everyone so much for coming out to shows, helping us book some dates, or letting us sleep on your floor.
As for January, we are taking a little break from touring. Not because we have been away too much...but just because there is lots of snow and ice. And we want to be safe. Starting February 1, we will definitely be out again for a while. The show dates will be updated shortly with a lot more info.
This time off in January is also giving us some space to write new songs. We will be recording some new tracks just for the hell of it, and we are even more happy with some of the new stuff we have been coming up with. I can't wait until everyone can hear it. Maybe when we are done with some stuff, I will upload some new mp3s.
And speaking of new tracks, there have been talks for a while about a split we are supposed to be doing with Reggie and The Full Effect. This split will be coming out very soon. We just aren't sure with what band just yet. It's a long story. But it will be great any way you look at it. We promise. The split will consist of 1 new song and 1 cover from each band. The two tracks on our side are called "Moshi Moshi", and "Am I Wrong" by Love Spit Love. We have decided to start pushing to get this split out soon, and we will have more info within the next 2 weeks.
Some new merch is up as well, if you didn't read that on the homepage. We now have sweatshirts, and a new shirt design. Check it out at Http://www.merchdirect.com/brandnew.
On a totally different subject, I would like to add that I should have won the poll on the home page, and I am deeply saddened that I have come out last. I, for one, think Garrett cheated.
Anyway, see you guys in the next couple of months! I am going to try and sleep for a little while. New Year's Eve kicked my ass.
..brian
11/26/01
---
We are home from tour, and I have to admit that Thanksgiving this year beat out any other year. Seeing all the food on table, after eating burritos from Taco Bell everyday for a month straight made me very excited. Anyway, we hope everyone had a great Thanksgiving, and we wish everyone happy holidays for December as well. As you can see from our splash page, we took a little time out in Buffalo, NY to take our picture with Santa. The mall was crowded that day, and we waited on line for a damn long time. It is our gift from the Brand New camp, to you.
December 7 we will be appearing at Tower Records on Old Country Road in Carle Place, NY to do an "in store" performance. Chances are it will be an acoustic deal, and Garrett will do some circus acts as well. There will be more fun there that night, then you can handle. The festivites begin at 7:30pm sharp. Please come down and support if you can find the time.
Where are the pictures in the photos section you ask? Well..we are working on it. If anyone has any pictures from any shows that we have played within the past 2 months, please let us know. We would love to start putting new pics up of us as soon as possible. The old ones weren't doing it for us anymore.
We will be playing scattered shows around the east coast for the next month and a half or so, so please come check us out! The show dates are updated daily. We will be playing December 14 at home. Be sure to check it out. Alkaline Trio is playing, as well as Taking Back Sunday. What a rad show. Check out more on the shows page! We will have new sweatshirts there, as well as new stickers and pins. You don't wanna miss out.
I am going to go pop some vitamin c, and head off to bed. I am determined to kick this cold. Talk to you guys soon!
..brian
11/06/01
---
Hey guys whats happening? Sorry it's been a little while since we updated the news. We have been out for about 2 weeks now, and it has been going pretty damn well. I must say. We are excited.
Right now, we are in Chicago, and we just bought some awesome clothes from this thrift store. We are gonna look damn good. Especially Garrett, he is such a chick magnet.
The tour with The Reunion Show has started once again, and we could not be any happier to be touring with them throughout the mid-west. They are some awesome guys, and they rock every night we see them. We hope you all go out and get their ep if you haven't yet.
Also, some more tour dates are up for December. We have a couple great shows coming up soon, as well as a little tour with the band Over It. Check us out if you can at any of the dates listed. The full tour will be up hopefully this week.
Thank you to everyone for coming to all of the shows that we have played, and we'll see you all soon!
Rock and Roll
..brian
10/21/01
---
So we are about to leave for our tour with The Exit and then Reunion Show, and we are very excited. Our van works better than ever, and we got a trailer! That means we have the whole van to run around in. Plus we hooked up power to the back. Garrett is gonna bring his George Foreman Grille and cook some mean grilled cheese for us.
Also, we wanted to thank everyone for their support with the new record, and with the release shows! You have helped us a great deal with a lot of things, and we appreciate it a lot.
We are working on some new pins that should be one of the best designs you have ever seen. And it has a lot to do with beer. And we have a lot to do with beer. So it works out. The cds will be up this week at the merch store as well.
The Yahoo club is also rockin. We have picked up about 30 new members, since we linked it to our site. Check it out. It's way more exciting than you think. Just wait until we have some message boards on this site too. Its gonna be a party.
I'm gonna update this soon again. From far away.
..brian
10/13/01
---
It's 4:00am here, and we just got home from playing Massachussetts....I figured before I went to bed I would update the news for a little.
We're very sorry about all of the technical difficulties we have been having with our website. This is the new look for now, and we will improve on it a lot this week. It will be fully functional before we leave for tour next saturday.
We hope to see everyone at our record release shows this Sunday and next Saturday! We appreciate everyones support so much. And thank you for all the emails about the new record as well.
The new shirts are up in the merch store! Check out the merch link if you wanna take a peak! The record will soon be available there as well.
I am very tired. I will update everything for real after this weekend. See everyone soon!
Buy the new record!
..brian
09/29/01
---
Hey Kids. We did it. We made it home successfully once again. And the van only broke twice on this trip! We we're so psyched. haha. Anyway, so we'll be home for a little break for the next 3 weeks or so and then we are so excited about our record finally being released, that we have another tour planned. Are you excited? It will be from October 19 - November 21, all through the mid west and east coast. All of the shows including other new miscellaneous shows for the end of November and December will be up shortly. I just need to catch up with everything since it has been chaos in New York lately.
At some point this week, there will be the new shirt designs up at the online merch store. I bet some of you didn't even know we had one! Just click on the merchandise link at the top of the page, or go to http://www.merchdirect.com/brandnew. Please keep checking back, because we know it will be updated soon. It is out of our hands though at the moment.
We also discovered a site called AbsoutePunk.net. Check it out. Somehow there is a new song there you can download from our record coming out on October 9th. It is called Failure By Design. And you will like it. A lot.
Speaking of our record...we finally have a Long Island date for the record release. We will be playing on October 20 at Plush in Rockville Centre. Other bands playing are The Anniversary, Superdrag and Mates of State. The info will be posted on the shows section as soon as possible.
Also, if you have signed the mailing list...I think i have finally figured out how to use it again. There has been problems for a little while with hanging over servers and stuff, so it has gotten confusing, but I will attempt to send out an email with all updated shows and such sometime soon as well.
Oklahoma Tim is the shit!
The Movielife is awesome.
I feel like I am forgetting some stuff. I will update this again as soon as i remember.
I am going to go to sleep now though. I don't want to hang out tonight. Garrett is hot. Goodnight.
..brian
08/15/01
---
Yo. We're on tour. Email Garrett he'll tell you about it. We're in Bloomington, Indiana right now.
Some new Movielife dates are up. There's a lot more shows to come though. We'll tell you about it when we come home.
We are also playing Long Island on August 25 at Backstreet Blues in Rockville Centre. I heard a rumor that the show starts at 2pm.
I gotta get in the shower. I think we might rock tonight.
.brian
07/24/01
---
The tour dates are now totally up for August with The Reunion Show. For all of you interested, you should definitely come down to see a couple, because this will be a damn good tour.
Speaking of tour, we just confirmed a little one in September as well, and we are super excited. September 7 - 17 we will be out with Finch, The Starting Line, and The Movielife. Those dates will be up sometime soon as well...
But as for now, we are working on our shitty van that we bought and praying that it gets us through the next year. Garrett is hard at work. Call him, he's probably lonely. (516) 731-6614.
Tour starts in less than 2 weeks. We're psyched to finally start playing out more.
All of the lyrics are also up for the songs on the record. Check them out as well.
Hopefully see you guys soon!
07/17/01
---
The record is finally done, and we are driving out to New Jersey tonight to get it mastered. it will be shipped out for pressing next week. We want to thank everyone that worked on it with us, and helped us out throughout the past 3 years we have been recording it. It will have a mid - late september release date. I'll let you know as soon as we find out. We are very happy with the outcome, and plan on everyone else liking it a lot too. I bet you guys cant wait.
Unfortunately, the split with Reggie and the Full Effect will be postponed until a little after the record is coming out....it is out of our hands, but it will still definitely be hitting stores sometime in the fall as well. Call Garrett, he'll tell you all about it. He's single too. (516-731-6614).
07/03/01
---
Ok, so that no slacking thing in the last news update was a lie....but i promise, we've been hard at work booking shows, and recording. We actually bought our own bedset and some kitchenware for the studio now....we decided to just sleep there. Things would be a lot easier. There's more inspiration for Jesse too.
Anyway...i'm not sure if you've noticed or not, but our website has been changing from the "CentaStage" bald guys website to the "astro power" website for about 2 days...we have just fixed the problem by moving to a new host. That would explain the "binary blocks" webpage that has been up for the other 2 days...so we are all set now with the webpage again.
Tour is pretty much confirmed with everything. We are awaiting a few more dates, and we will post all the definite dates with venues as soon as we get them.
keep on the lookout for us within the next 3 months, cause we'll be playing a lot. With our record coming out, along with the split, we plan on playing almost everyday. We will probably fight, and Garrett will implode, but in the end, it will be fun. we hope you guys will enjoy everything when it comes out!
check out these sites:
Outline
The Reunion Show
Stopwatch
Volume One
The Movielife
Ok, im going back to the studio now...talk to you guys soon..
..brian
06/13/01
---
Yo kids....
Im taking the time to update this website a little bit. I added 2 new samples of songs from our upcoming full length
"
Your Favorite Weapon
". Email us and tell us what you think. The recording is coming out great and we are very pleased with the result. We have been recording now for about 37809432 months, so we're a little numb. The record will be out in early September.
As for the split cd with Reggie & The Full Effect..We are hoping to have that out by August 1. Hey, if all goes well, we could be done recording for it this week!
There are also some more pictures up, and some tour dates added as well. As you can see...all throughout August we will be touring with our good friends The Reunion Show. We will also be meeting up with The Stryder and maybe do some dates with Stopwatch towards the end of the month, as TRS leaves us for the west coast. Scumbags. There will be more along the week, so keep up.
We're gonna try not to slack. Sorta. Come see us play on Long Island June 22 with Atom and His Package too!
We'll have some new merch for you guys...pins, stickers, shirts..maybe even some hooded sweatshirts!
keep it real.
.brian.
06/09/01
---
I went to see OASIS tonight. They were really great. And then the Black Crowes played, and well... I've never seen more forty year old men playing air guitar in my entire life.
Rumor has it that i'm have a job again. I'm trying to figure out if this rumor is true.
I guess none of that really has anything to do with the band, but hey, things have been kind of slow lately.Oh yeah... we have an album coming out. Kids are gonna go nuts.
lovejesse.
05/31/01
---
Candy is dandy. But liquor is quicker.
eh... it's late. 4:17am. Well... i guess it's early. The swelling in my hand has gone down enough to where i can almost make it into a fist again.
First we'd just like to say thank you to all the kids who came out to the
Kennet Square
show. It turned out to be lots of fun and we really appreciated the huge response, especially from everyone who took the time to come up to us and say hello in person. It means alot.
Second, we'd like to thank everyone who made the 29th show possible, including
The Rainboy Case
,
Stopwatch
, and
The Stryder
, who came out with there new line-up and rocked like the champs they are. We go back a long way with those kids and it means alot whenever we get to play with them.
Keep an eye out for the split with
Reggie and the Full Effect
, as well as our summer tour with
The Reunion Show
.
If it wasn't for MakeoutClub, i might be able to make it through the day without wanting to break something.
-jesse.SHC forever
05/01/01
---
"Your Favorite Weapon"
the first full-length release from Brand New will hit stores this summer. Check the Triple Crown Records website for more updates.
We have an online merch store! Buy stuff! A lot more will be added to it in the weeks to come. Just click on the Merch link!
We are currently recording for the Reggie and the Full Effect/Brand New split CD. This record will be outstanding. It's rumored that each band will be recording an unreleased original, as well as a cover. You'll be able to pick up the split as well as signed 8x10 glossies on either of the bands tours. RAD.
Yes! Tour! We will be heading out with our boyfriends, The Reunion Show, for a four week tour starting in early August. More info will be supplied as dates become definite. Also appearing for a few nights might be LI's own Taking Back Sunday. They just got out of the studio and everything I've heard so far is gold.
I've still got a guitar head for sale. Fender Roc Pro. 100-watt. Inexpensive.
Kristian, get better all ready. We have surfing to do.
04/17/01
---
Alright. I'm taking a break from adobe illustrator to update this thang.
The Asbury Park Skate Fest was completely off the hook. It was by far the largest and most fun show we've ever played. Props to Glassjaw, Movielife, and Midtown for rocking the hell out of 4,000 kids. And NewfoundGlory, well I don't even want to talk about it. The roof almost came off.
"Your Favorite Weapon" is the title of our new record. We're still hoping for a release date in mid-July. Triple Crown and everyone associated with them have been really great in the past few weeks. We just wanted to say thank you.
In addition to the album we'll be recording within the next few weeks for a split CD/EP with Reggie and the Full Effect. We know you love them. We know you're excited. You should be. This will be the first of many Triple Crown/ Fadeaway joint releases that you will be seeing. No doubt it will be one of the best. You guys can pick it up on the next Reggie tour.
We'll have the online store up this week. Buy stuff from it.
That's it. Oh yeah, I'm selling a guitar head if anyone wants to buy it. It's a Fender roc-pro 100 watt. It's good. It's inexpensive. You'll like it. Email me at Brandnewrock@aol.com
Back to adobe. 4-3=1. -jesse.brandnew
04/06/01
---
Hey kids! Look at these shows!
Saturday April 7th
The MacRock festival in Virginia, w/ Stryder, Fairweather, and more! Doors open at 5:45 pm.
Friday April 13th
The Babylon American Legion on LI, w/ Midtown, HotRod Circuit, River City High and more. Doors open at 6:00 pm.
Saturday April 14th
Asbury Park Skate and Surf Festival in New Jersey, w/ Newfound Glory, Glassjaw, Midtown, Movielife, and more! This show is siiiiick! Doors open at 1:30 pm.
Okay so that's the bigger news.
We've been spending as much time in the studio as possible lately. The record is coming along slowly but surely. We ran into a few roadblocks, a few cases of bronchitis and a faulty hard drive. It takes alot to hold us down though and we're back on track. The record is due out in July. We will post clips of some songs as soon as we can. We promise.
We're really looking forward to playing these next few weekends and seeing everyone who comes out. We have some new shirt designs and patches for sale as well.
Fred and Triple Crown have moved there offices to the wrong side of the tracks. I guess when Brooklyn calls you have to answer. They take there sweet ass time with unpacking though. Actually if anyone has seen Fred tell him to call us. We think he got kidnapped.
Look for a tour this July with the Reunion Show. Our practice-space mates have got a good thing going on so check them out. We've been having immense fun with them lately at shows and we're looking forward to the summer. Some dates will be posted soon. There will also be more dates posted all this week, so keep checking back.
i guess thats it. The page will be redesigned soon enough, including an online merch store. Thanks guys. You rock the house. -jesse.brandnew.
03/06/01
---
hey... there's really not much new to talk about. But i figured i would update this for all the people who are actually cool enough to check this site and have to keep reading the same thing. We have officially signed on for both the MACROCK festival in Virginia this spring as well as the SURF AND SKATE festival in jersey in April. Besides some great bands playing there will be designated skate areas and contests at both shows.
In other news, we're glad that our friends The Movielife survived their crash and burn, van ordeal. There was a benefit show for them at LI Zoo last night and it rocked hard. We've made a conscious effort however to not jump on the band wagon and get in a van accident. It seems the popular thing to do lately but we're weak and probably wouldn't survive.
Keep your fingers crossed and the album will be out by june (we hope). Thanks to everyone who's been mailing us compliments and support from recently. We appreciate it. Keep it up.
There is a new design in the works for this website. Keep checking back. We are hoping for it to be totally redesigned in about a month. New shirts, and stickers are being printed as well.
And it was all yellow. I'm out. Jesse.brandnew.
02/03/01
---
hi how are you? ... so its official. Brand New is a signed band. We signed last week with the infamous Fred Feldman and Triple Crown Records . It took Fred a while to beat us into submission but he eventually succeeded and we owe him a big Thank You. So we'll be recording early March and the album is set for a mid-summer release date.
In other news we moved our practice space to massapequa where we now share a room with The Reunion Show . Adios to our friends and old roommates, The Rainboy Case.
We played an acoustic show recently at CBGB's and it turned out to be alot of fun. Thanks to Neil Rubenstein for setting it up and to John and Adam from Taking Back Sunday for rocking out. Thats it for now. Jesse will be sitting in playing an acoustic set for a radio broadcast on Tuesday, February 6th. The station and time will be posted soon. New shows have also been posted. Keep it real and keep in touch. Thanks to everyone who's been supporting us these last few months. We appreciate it. I'm out. -jesse.brandnew